In an ecological system, there are many distinct types of plants. Various morphological components are involved in some plants that help in their development and growth. Tendrils are one such component that we will be discussing here. Tendrils are botanical elements that serve to support and nurture the vine system of the plant. Tendrils comprise spirally coiled structures that originate from distal or axillary buds. They are the short, connective thread-like structures that help in the stability of climbing plant systems. They are categorized as stem tendrils or leaf tendrils based on their stability and development. A tendon does not grow in a straight line; rather, as it makes contact with a vertical substrate, it expands. A tendon's principal function is to provide stability to the plant. This process is known as 'Thigmotropism.'
What are Tendrils?
According to botanical studies, tendrils are a type of plant organ that is specialized for anchoring and maintaining vining stem. Tendrils can be seen in leaves, leaflets, stipules, or leaf tips. The tendrils can also form in modified stem branches such as those in grapes. Tendrils cling to leaves with a strong grip. They form a ring around plant systems that help the tendrils to climb up the tree. Tendrils are short, whip-like strands that emerge from the node of a vine's stem or plants that crawl on other plants. The structure of tendrils is similar to that of a leafstalk or stem tissue.
What Are the Characteristics of Tendrils?
Tendrils are sensitive to touch. They grow towards the surface of the ground or soil.
Once it comes into contact with a surface, the tendrils surround themselves around the plant and adhere to it for the impact of the stimulus.
Sclerenchyma, a superior mechanical tissue, typically forms in tendrils and maintains the vining system, allowing it to carry the weight of the plant.
When tendrils get in touch with solid surfaces, they acquire terminal growths. These terminal growths help in straightening the plant and it secretes a stickiness substance that actually binds the tendon to the ground.
What are the Different Kinds of Tendrils?
Tendrils are classified into two types based on their growth: stem tendrils and leaf tendrils. The stem tendril differs from the modified tendril because it is a modified stem, whereas the leaf tendril is a modified leaflet, leaf, or part of a leaflet, leaf.
What is the Difference Between a Stem and a Leaf Tendon?
Stem tendrils are stalks that have taken on a threadlike, leafless appearance. They are mostly utilized for climbing, and they don't usually have a branch. Leaf tendrils are altered leaves that emerge from the leaf nodes. Peas have tendrils on their leaves.
What are the Functions of a Tendril?
Some of the most common tendon functions are as follows:
It is believed that they are altered leaf, stem, or petiole sections. Their principal function is to keep the plant alive when it mounts a structure. As a consequence of the greater light, they allow a plant to grow in a more suitable environment. Climbing is easier for plants whose stems have been turned into tendrils. Tendrils could be found on plants in a variety of areas, comprising leaves, stems, and in some circumstances, branches.
What is a Thigmotropism?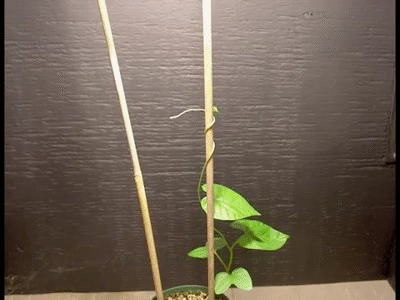 Thigmotropism is a kind of plant displacement activity that happens in a diversity of climbers as a result of a particular touch stimulation. Tendrils in stems climbers show mutation at first, then move thigmotropically to twist around supporting as soon as their axils come into contact with it. Tendril-producing plants include the grape, members of the melon family, the passion flowers, and the sweet pea.
Below-mentioned is 10 examples of plants possessing tendrils:
1. Money Plant
Who can miss the everlasting and attractive Money Plant? These climber tendril plants have lovely heart-shaped leaflets with a shade of white in the middle and green all around, making them a fantastic accessory to your home garden. They can be grown both indoors and outdoors. Other names for them include hunters' robe, golden pothos, silver vine, etc. To guarantee that it has enough area to develop, just direct its tiny tendrils to a wire, fence, or trellis. A money plant is a climber, thus it has the capacity to develop vertically and propagate swiftly. Pruning and hydrating your money plant on a regular basis will assure that it becomes the center of attention in your home.
In many cultures, it is regarded as a good luck plant that also offers a sense of tranquilly to your home.
2. Morning Glory
Morning Glory is the plant to get in if your garden is in need of some color. This lovely vine is a tendril climber that develops quickly and produces the most beautiful purple blossoms. If you possess a bare wall or fence in your backyard, this is a great way to decorate it up.
Morning Glory acquire their name from the fact that they sprout spectacularly early in the morning.
Morning glory is available in a wide range of colors, including pink, white, neil, yellow, violet, and many others. These flowers require well-drained and moist soil with regular watering in full sun to ensure their growth and health. They are considered one of the most ornamental tendril plants in India.
3. Bougainvillea
Many of us grew up with grandparents who lived in large bungalows or public quarters with plenty of greenery. The blossoming bougainvillea plant was the most typical sight in these dwellings. For decades, this excellent climber has been a staple among many Indian households. It adds aesthetic value to your property and conveys a sense of plenty in the world around us. Bougainvillea flowers come in a variety of colors, including pink, orange, magenta, red, and white, to name a few. This low-maintenance climber is ideal for anyone who enjoys varied colored blossoms. Bougainvillea's allure never fades, whether you are a novice or a seasoned gardener. It is only a few days of care to get started, yet it may even thrive in harsh climates.
4. Runner Beans
To keep their sensitive vines together, runner beans need large and robust support. Runner beans, on the other hand, have the highest ornamental value in a home garden. These lovely climbers are a must-have throughout each home garden, whether they are used to beautify an open porch or to finish an apartment wall. To thrive, they need more than enough water and healthy soil. They grow in mild climates and all types of weather, producing the most amazing beans ever. It's best to pluck the beans when they are still little since they are juicier. They lose their flavor as they grow larger.
5. Green Peas
Green peas are perhaps the most prevalent culinary item found in any Indian kitchen. They can be used in a variety of ways, and every Indian mother wants to feed their child with nutritious green peas. Rather than relying on your vegetable vendor to bring it to your house, you can now grow it naturally in your own backyard garden! They are great tendrils that may fill an empty wall or provide shelter for other plants. Green pea plants are also quite easy to care for, requiring little effort and growing quickly. To flourish, they need fertile, compost-rich soil and frequent hydration. Depending on the meteorological conditions in the area, they can be cultivated in the winter or spring.
6. Etoile Violette Clematis
These lovely climbers or tendrils are an excellent addition to any home or environment. They are simple to care for and yield lovely purple flowers. They thrive in hot climates and blossom profusely if properly watered. To enable them to develop vertically, Etoile Violette Clematis needs excellent soil and great support. If you are going to plant this tendril indoors, a wide-base container will help the roots grow more firm. Indoors, these climbers or tendrils are incredibly stunning, and they are also wonderful for planting on your balcony.
7. Moonflower
The Moonflower is the great tendril plant or a climber for you if you just wish your garden to have a lovely aroma even at night. White flowers grow at night and offer a decorative element to your home. Sow them in the early summer and give them plenty of water to keep them healthy and growing. Excessive moisture can cause their sensitive roots to decay, so be cautious not to overwater them. The moonflower plant requires a lot of sunlight and is an excellent addition to any balcony or yard. The Moonflower produces huge trumpet-shaped flowers that add serenity and tranquility to your house.
8. Orange Trumpet
The Orange trumpet vine often referred to as flame vine, Pyrostegia, and golden shower is yet another popular sight in Indian homes with huge gardens. The many shades of orange formed by the bunches of colors on the vine make your landscape incredibly attractive. To help these vines or tendrils to flourish beautifully, plant them in enough sunlight with rich and fertile soil. They bloom predominantly in the winter and spring and offer your home and landscape a dazzling appearance.
9. Long Beans or Asparagus Beans
These lush, full-green tendrils give your yard a fantastic texture. Long Beans are good for hot weather and can be seen as a frequent house addition in many Indian households. There are delicious beans that are a popular side dish in most Asian homes. Cook them, stir fry them, or gently boil them; they taste great no matter how they are prepared. They have a crisp texture and reach a length of at least 20 inches. They are low-maintenance and may be cultivated in balconies or open gardens with ease. Attach them to trellises for further support as they are tendrils that climb and spread out near the trellises' support.
10. Melons
Melons are among the juiciest fruits that can be found in any home, especially during the summer months. They are simple to grow and produce a large number of fruits in a single season. Due to their size and structure, cantaloupes and baby melons are easy to care for. Once the fruits attain the size of a cricket ball, they don't need so much watering. To watch them flourish later, you must feed them plenty of water and nurture them in good soil in the beginning. Melons are a terrific addition to any organic homegrown vegetable and fruit garden because they are high in nutrients.
Also Know About Other Plants & Root Examples